Bantam Pocket Picture Jigsaw Puzzle Lot of 2 Pinocchio Mickey Mouse Disney Jaymar Vintage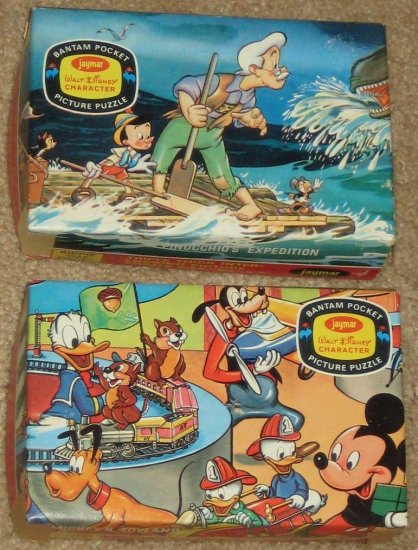 *Lot includes:
Pinocchio's Expedition - #8741
Mickey's Toyland - #8740

Puzzles have 28 pieces and measure about 5" x 7" when completed.
- The pieces are in very good condition. NOTE: 1 piece from the Mickey puzzle had a small piece of the top layer torn off and I glued it back on. You can spot it if you look closely.
- The box bottoms are in excellent condition. The tops show a little wear and I'm unsure of the corners. They are held together with tape strips as you can see in the photos. One strip is torn. The corner on the Pinocchio box without the tape strip is not torn which leads me to believe the tape strips are not a "repair" but are original.
- Boxes are marked "Walt Disney Productions" and dated 1967 in Roman numerals.
Other Products from
jigsaw-puzzle-palooza
(View All)